Newleaf Plantation going for innovative product range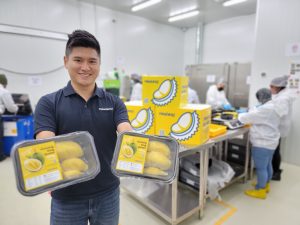 Ho: Going downstream is the most effective way to sustain the business due to the seasonal nature of the durian industry.
THE growing popularity of durian worldwide has started to attract the younger generation to be involved in the agriculture business, bringing with them the zeal for innovation and a tech-driven approach to plantation management.
But as one of the new-generation durian planters discovered, to successfully exploit the full potential of the durian market still takes old-fashioned perseverance and business acumen to successfully penetrate the space.
After more than five years of painstaking work spent on nurturing and developing its first durian farm, Newleaf Plantation Bhd decided to pivot towards downstream manufacturing, with the focus now shifted towards expansion into the durian-related food business.
Next on the agenda is to plan for a complete pivot into the durian agribusiness value chain by expanding further downstream with a product range that is innovative, palatable and easily   accessible   to   consumers, says Keaden Ho, co-founder and executive director of the company.
As Malaysia's signature product, the durian downstream business is one of the fastest growing segments as it has vast local appeal as well as increasing focus on the wider export markets.
Going downstream is the most effective way to sustain the business due to the seasonal nature of the durian industry, adds Ho, who is in charge of the company's downstream operations.
"After establishing a strong upstream base, we started venturing into downstream with investment in a new manufacturing facility. But handling food, especially for the export market, requires more than just clean and modern facilities.
"We also need to ensure compliance with all the conditions to qualify the products to be acceptable worldwide, including the Good Manufacturing Practice or GMP and Hazard Analysis and Critical Control Points or HACCP certifications, as well as the General Administration of Customs of China or GACC and Food and Drug Administration requirements," says Ho.
The plant, with an investment of RM2.5mil, has the capacity to process up to 500 tonnes of durians and durian products for the export market. Expansion is currently underway with new machinery and processing space that will see the plant capacity double up to 1,000 tonnes by end of the year.
With an affinity for the agriculture industry, Ho says he considered his entry into the durian business timely, given the boom in Malaysia's durian sector in the last five years.
"I foresee huge growth potential since being acquainted with Kenny Wan, the founder of Newleaf. It has opened my eyes to what remains unexplored within the industry.
"After looking at the possibilities that can be achieved in the industry, and the synergy throughout the process, I'm convinced that the long-term viability of the industry is still intact," notes Ho.
One of the keys for Newleaf's export success is the exclusive collaboration with international courier and logistics company DHL, enabling the company to reach directly to customers in Hong Kong and China even during the pandemic-induced lockdown last year.
'We are proud of this collaboration, which opens up a new avenue for a relatively new and small durian player like us to reach and open up a new market," he says.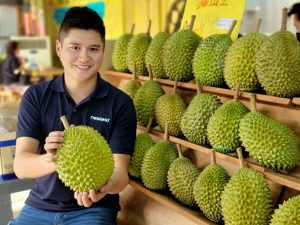 Having successfully raised more than RM60mil to date from several key investors since it started, Newleaf is set to expand its plantation size to help secure the future demand of its export and downstream business.
The expansion of its farms is underway with the opening of new plantations in Bentong, Lipis and Pelangi in Pahang, in addition to its current 50 acres of mature plantation in Tras, Raub.
Newleaf aims to increase the farm size to over 1,000 acres in the next few years, and is still actively scouting around for new land and or joint-venture opportunities to expand its farm.
Employing new durian planting methods and research into the nutritional requirements of durian trees, Ho says Newleaf's farms can start bearing fruits within four years, compared to seven or eight years for conventional durian plantations.
According to official statistics, Malaysia's durian export comprising whole fruits, durian pulp and paste reached RM925mil in 2021, more than double from a year earlier and is expected to breach RMlbil in value by this year.
"Malaysian durian is sought after as the best in the world with factors such as a favourable climate and the absence of major natural disasters being particularly suitable to provide a strong foundation for the durian industry. In spite of that, with less than 80,000 hectares of planted durian land size, we are still very much under-developed as compared to Thailand," he adds.
Musang King is still by far the most popular variety that is in demand, especially for export markets. Newleaf is one of 14 local durian plantation firms that have been granted approval to sell fresh fruits directly to China since June 2019, opening up a new market for Malaysian durians.
This comes after Thailand's 30-year exclusive agreement to export fresh durian fruits to China expired in 2015.
Currently, the main export markets for durian are China, Hong Kong and Singapore, taking more than 80% of the export volume last year.
All these markets have performed well, with growth even in the last two years when the coronavirus disrupted trade worldwide.
While it is unsurprising that the attention of durian exporters is mostly focused on the huge China market, durian is the top fruit imported in terms of value, ahead of other non-native fruits like cherries, grapes and bananas.
However, for Newleaf there are a few relatively unexplored markets. Japan sits on top of the list as the new growth market for Malaysian durian, says Ho. The famed Malaysian fruit has recently been gaining attention in Japan with some celebrity and even political endorsements.
"Against all odds, one baby step at a time, we have accomplished milestone after milestone, with a vision to create a self-sustainable business supply chain and brand from plantation to export, opening up a new era of Malaysia durian to the world," he says.
Media article link: https://www.thestar.com.my/business/business-news/2022/07/09/riding-the-durian-wave-with-downstream-growth