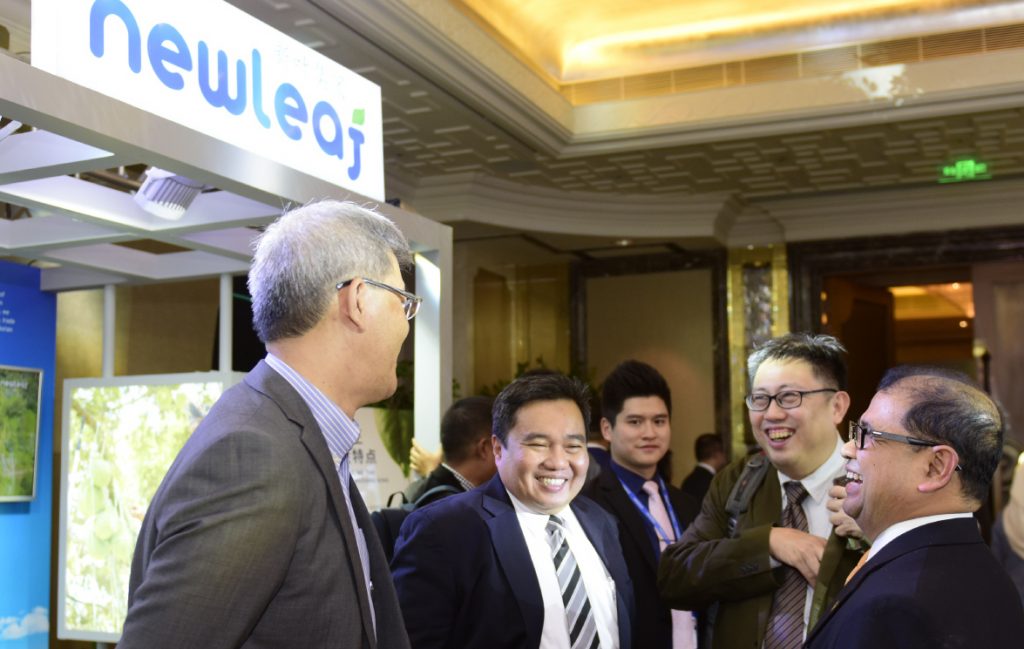 Only 1 in every 100 durians sold in China now comes from Malaysia and the country is on a mission to ramp up its market share in the stinky fruit that is both revered and reviled around the world.
Malaysia is expected to be allowed to export whole, frozen durians to China in a few months' time after a change in Chinese policy, and its businessmen are gearing up to break Thailand's durian dominance there.
On the sidelines of the Belt and Road Forum in Beijing, several companies affiliated with Malaysian-listed PLS Plantations Berhad staged a showcase of durian products and new technology in growing the fruit that haters say smells like rotting flesh and gym socks.
The two-day Malaysian Durian Festival was held at an upscale hotel, in a gaily-decorated ballroom decked out with fake durians. One booth offered samples of durian chocolate while another showed pictures of "Musang King Snowy Mooncakes". Even Prime Minister Mahathir Mohamad attended the event to show his support for the country's push to penetrate China's durian market.
"Malaysian durians are more expensive [than Thai durians]. But now the Chinese economy is doing so well. The Chinese are getting richer and have higher demands for what they wear, what cars they drive, and what food they eat," Wan Mun-hoe, managing director of the Malaysian company Newleaf Plantation Berhad, said at the festival.
At present, China does not allow the import of whole durians from Malaysia, only frozen pulp
But last August, the two governments struck a deal to allow the export of whole, frozen durians from Malaysia into China. Businessmen at the festival said the two countries were finalising the export protocols. They expect exports to finally be allowed later this year, potentially leading to a surge in Chinese demand.
"Durians are only available in major Chinese cities. Looking forward, Malaysia is going to develop large-scale durian plantations. We hope we can cope with the demand of the Chinese market" Wan said.
His company, which describes Malaysia's famous Musang King durian as the "Hermès" of durians, currently owns 50 acres of land that is used to grow durians. In the next three years, the company will have 1,000 more acres of land leased to it to grow durians.
Newleaf Plantation Berhad has developed what it calls an "intelligent farming system" to keep track of all the durian trees' health.
On its farmland, every tree has a QR code. Upon scanning the QR code with a device, the farmer would be able to see the health status of the trees, whether it has been watered and if fertiliser has been applied.
The central management system has the records of every trees' age, breed, fruit counts and harvest records.
"China is opening the market for Malaysia and so our country is beginning to turn to commercial plantation farming. That's why we are introducing intelligent farming management," Wan said.
But growing Chinese demand could push durian prices up. In 2012, Wan said, Malaysian farmers were selling one kilogram of durians to wholesalers for 9 ringgit. Now, the price has gone up to 30 ringgit.
Eric Chan, managing director of another Malaysian company, Dulai Fruits, said his company only delivered one container of durian products to China every year in 2011. Now, it was five to six containers every month and the company is aiming to triple its sales in the next two years.
"Thailand has been exporting its durians to China for about 20 years. Their market penetration is deeper and they have much more plantation land," Chan said.
"Malaysia has for many years focused on its palm oil business. It was only since about 10 years ago that we started exporting durians. In the past, we only exported our durians to Singapore."
China's durian imports increased by 15 per cent in 2017 to about 350,000 tonnes. Roughly 40 per cent of its current durian supply is from Thailand, the world's top producer. Thailand has been exporting durians to China since 2003.
Charles Chen, director of Krillo Kakaw, a chocolate maker headquartered in Kuala Lumpur, said it had seven to eight types of durian chocolates and these were among his company's bestsellers. The durian chocolates retail for upwards of 49 ringgit.
The company is working to develop new products using freeze-dried durian to export these to China. It is gunning for 40-50 million ringgit in sales per year for a start.
"There is a lot of curiosity towards durian products and there is growing acceptance. Durian is seen by Chinese consumers as a premium product right now but we want to find alternative ways for people to enjoy it," he said.
Media article link: https://www.scmp.com/week-asia/economics/article/3007963/malaysia-gears-serve-spiking-chinese-demand-durians-and-rupture